Description
Technical specifications of
PM860A 3BSE018110R1
Product quality
Delivery time
In stock
Estimated time of delivery
3-4 days
Factory warranty
12 months
Module number
PM860A 3BSE018110R1
manufacturer
ABB
Product name
Controller /PLC/DCS/ servo/panel
Voltage range (VDC)
220
Output range (MA)
122
Overrange protection (VDC)
250
Input range (MA)
224
Operating temperature
50-80
System memory (Mb)
455
interface
60
Color scale
grey
Weight (KG)
0.18 Kg
Shipping weight (KG)
1.25
Overall dimension (mm*mm*mm)
250*250*250
Scope of application
Oil, gas, ships, cement plants, industry, etc
Operating mode
On the computer
Product situation
description
Global commercial alias :PM860K01 Product ID:3BSE018100R1 ABB Model Name :PM860K01 Catalog Description: Processor Unit Kit Length Description: Package includes :-PM860, CPU-TP830, baseplate, width =115 mm-TB850, CEX- Bus Terminator -TB807, ModuleBus terminator- Memory Backup Battery (4943013-6) Category Product Control System 800xA Controller AC 800M Hardware AC 800M Hardware 2.1 (SB2) Central Unit Product Control System 800xA Controller AC 800M hardware AC 800M Hardware 4.0 Central Unit Product Control System 800xA Controller AC 800M Hardware AC 800M Hardware 4.1 Central Unit Product Control System 800xA Controller AC 800M Hardware AC 800M hardware 5.0 Central Unit Product Control System 800xA Controller AC… Additional information Media Description :PM860K01 processor unit Technical information :PM860K01 processor unit package includes :-PM860, CPU-TP830, baseboard, width =115 mm -TB850, CEX- Bus terminator -TB807, ModuleBus terminator – Battery for memory backup 4943013-6-4 pos Power plug 3BSC840088R4 Exchange Number EXC3BSE018100R1 Product Type: Spare parts order Customs Tariff Number :8538900 Small equipment (the external size does not exceed 50 cm) Battery quantity :1 Battery chemical composition: Lithium battery type: Portable battery weight :9 g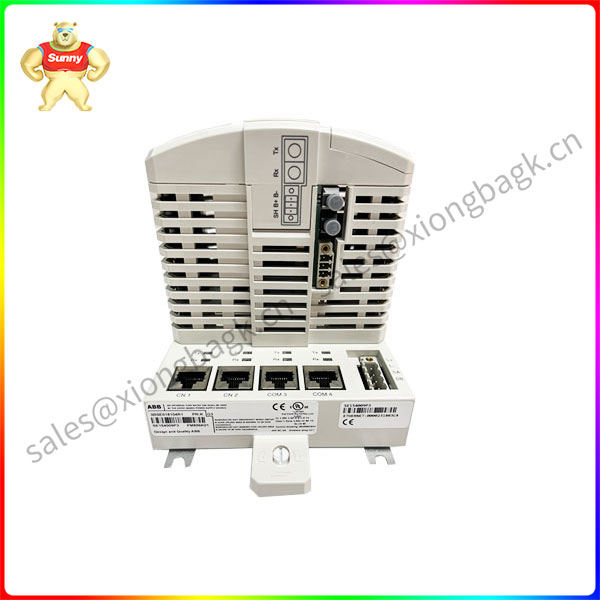 ---
Industry Profile:
ABB is a global leader in power and automation technologies, providing industrial and power customers with solutions that help them improve productivity while reducing environmental impact. The ABB Group operates in more than 100 countries and employs about 124,000 people.
ABB has five business units:
Power Product Department: Power products are an important part of transmission and distribution engineering. The unit will lead ABB's worldwide manufacturing of transformers, switches, circuit breakers, cables and ancillary equipment. In addition, it provides related services to improve product performance and extend product life cycle.
Power Systems Division: The Power Systems Division provides a complete suite of systems and services to transmission and distribution networks and power plants worldwide, with an emphasis on substations and substation automatic control systems. In addition, the division provides Flexible AC transmission systems (FACTS) and high voltage Direct current (HVDC) transmission systems as well as power grid management systems. In the power generation business, the Power Systems Division provides instrumentation products as well as plant controls and auxiliary devices.
Discrete Automation and Motion Control: The Discrete Automation and Motion Control Division provides products, solutions and related services that help customers improve production and energy efficiency. Its motors, generators, drivetrains, programmable logic controllers, power electronics and robotics products are widely used in the automation fields of power, motion and control. The business unit's leadership position in the wind turbine industry and its growing product line in the solar sector will further facilitate the development of Discrete Automation and Motion Control's existing technologies, channels and operating platforms in the industrial sector.
Low-voltage Products Division: ABB's low-voltage Products division consists of control products, circuit breakers and switches, switch sockets, housing and rail components, and low-voltage system business units. ABB low-voltage products can be widely used in industrial and commercial and civil building power distribution systems, a variety of automation equipment and large infrastructure. The main products include: low voltage control and automation products, automatic switching appliances, circuit breakers, switches, line protection, power grid quality, switch sockets, intelligent building control systems, box and shell products and low voltage distribution systems.
Process Automation: ABB Process Automation provides instrumentation, automation products and industrial process optimization solutions to customers in the oil, gas, power, chemical, pharmaceutical, pulp, paper, metals, minerals, Marine and turbocharging industries. Abb Process Automation is committed to helping customers improve production and energy efficiency and maximize asset value.
---
About us — Xiamen Xiongba Electronics
Welcome to Xiamen Xiongba E-commerce Co., LTD. We are your effective partner for system components when it comes to new or discontinued industrial automation products. For more than a decade,
We specialize in the trade of high-quality components in the field of industrial automation, focusing on PLC components, DCS and CNC technology, driving technology. In particular, you can also obtain from us components that have been manufactured from the original factory for many years and are no longer available on the market or difficult to obtain.
Why choose us
1. We will provide you with product information and pictures
2. Large inventory and fast delivery
3. Competitive prices and immediate quotes
4. Professional services and technical support
5. The warranty lasts for one year.
6. Strictly test the machine before shipping.
7. We can help you get any hard-to-get component
---
Advantage part model:
TC501V150 3BSC550038R3 TC501V150 Termination unit, 150 Ohm
TC505K03 3BSE009616R1, 3BSC840035R1, 3BSC840067R1 TC505K03 Connection Kit
TC512 3BSE006383R1 Twisted Pair Modem
TC513 3BSE006385R1 AF100 Twisted Pair Coax Modem
TC513V1 3BSE018405R1 AF100 Twisted Pair Coax Modem
TC514V2 3BSE013281R1 AF100 Twisted Pair to Opto Repeater
TC515V1 3BSE013243R1 AF100 Twisted Pair to Twisted Pair Repeater
TC515V2 3BSE013284R1 AF100 Twisted Pair to Twisted Pair Repeater
TC516 3BSE012632R1 RS485 Twisted Pair Modem
TC520 3BSE001449R1 System Status Collector
TC530 3BUR000101R1 T-Box for MOD 300 DCN
TC532 3BUR980023R1 Fiberoptic DCN T-Box
Please contact Sunny sales@xiongbagk.cn for the best price.
➱ sales manager: Sunny
➱ email mailto: sales@xiongbagk.cn
➱ Skype/WeChat: 18059884797
➱ phone/Whatsapp: + 86 18059884797
➱ QQ: 3095989363
➱ Website:www.sauldcs.com