Description
Brand/Manufacturer: LAM
Manufacturer's Part number: 810-000670-001
Application: circuit board module
Country of origin: USA
Electromagnetic compatibility refers to the ability of electronic devices to work harmoniously and efficiently in various electromagnetic environments. The purpose is to make electronic equipment can not only suppress all kinds of external interference, so that electronic equipment can work normally in the specific electromagnetic environment, but also reduce the electromagnetic interference of electronic equipment itself to other electronic equipment.
1, choose a reasonable wire width because the impact of transient current on the printed line of PCB circuit board is mainly caused by the inductance component of the printed wire, so the inductance of the printed wire should be reduced as far as possible.
2, the use of the correct wiring strategy using equal wiring can reduce the inductance of the wire, but the mutual inductance and distributed capacitance between the wires increase, if the layout allows, it is best to use the zigzag mesh wiring structure, the specific approach is one side of the printed board transverse wiring, the other side longitudinal wiring, and then connected with metallized holes at the cross hole.
3, in order to inhibit the crosstalk between PCB circuit board wires, in the design of wiring should be as far as possible to avoid long distance equal wiring, as far as possible to open the distance between lines, signal line and ground and power line as far as possible do not cross. Crosstalk can be effectively suppressed by installing a printed line between some signal lines which are very sensitive to interference.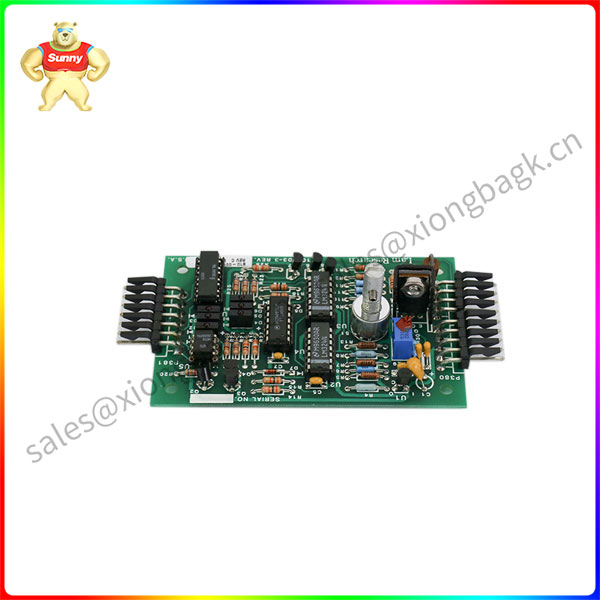 ---
Industry Profile:
Allen-Bradley has a strong position in automated production and management, bringing together leading automation brands including Allen-Bradley, Ryan Electric, Dodge and Allen-Bradley Software. Provide customers with solutions ranging from control to ultimate connection to load. Its automation solutions meet global quality standards, including ISO9000, the European CE mark standard and the Chinese CCIB standard.
Allen-Bradley Automation provides customers with a complete suite of component, product, control and information platforms as well as support services and manufacturing solutions that we call total automation. Through full automation, Allen-Bradley is able to implement a comprehensive business strategy that meets today's industry requirements.
It promotes electronic manufacturing, which is a seamless and transparent connection from the factory floor to enterprise business systems, provides real-time data acquisition and decision-making, optimizes production scheduling, reduces waste, improves quality, and increases customer satisfaction. Achieving this requires a highly integrated architecture in addition to commercial technologies, which means using open networks and open software platforms.
---
Why choose Xiamen Xiongba
We want to go beyond the usual way to meet your needs and focus on cost efficiency
Cooperate. Xiamen Xiongba Spare Parts Center is a reliable delivery partner. We are committed to building
Long-term partnership to identify your shared cost saving opportunities. We'd be happy to translate
These opportunities are translated into working methods and services that ensure optimal efficiency of the partnership.
Dominant product
①Allen-Bradley(AB) series
② Schneider Electric series
③ General Electric series
④ Westinghouse series
⑤ Siemens series
⑥ABB robot. Fanuc Robot, Yaskawa robot, Kuka robot, Mitsubishi robot,
OTC Robot, Panasonic Robot, MOTOMAN Robot
⑦ Westinghouse: OVATION system, WDPF system, MAX1000 system spare parts
Conversion, I/O signal processing, digital – to – analog conversion of data communication systems
⑧Invensys Foxboro I/A series system, FBM (I/O) SCS, ladder logic control, accident recall, DAC
Invensys Triconex: Redundant fault-tolerant control systems, the most modern fault-tolerant controllers based on
Triple modular redundancy (TMR) architecture.
⑨ Siemens: Siemens MOORE, Siemens Simatic C1, Siemens Numerical Control Systems.
⑩ Bosch Rexroth: Indramat, I/O module, PLC controller, Drive module
---
Advantage part model:
| | |
| --- | --- |
| AB 6181-AIAABZAZZ | Allen-Bradley |
| AB 6181-AHECBBFZZ | Allen-Bradley |
| AB 6181-AHBCBBFZZ | Allen-Bradley |
| AB 6181-AGCCBBZZZ | Allen-Bradley |
| AB 6181-AGBCBBZGZ | Allen-Bradley |
| AB 6181-AFDDBCBZZ | Allen-Bradley |
| AB 6181-AFBCBCZZZ | Allen-Bradley |
| AB 6181-AFBCBBZGZ | Allen-Bradley |
| AB 6181-AFABBBZZZ | Allen-Bradley |
| AB 6181-AFAAZZZZZ | Allen-Bradley |
| AB 6181-ACBCBBZZA | Allen-Bradley |
| AB 6181-ACBCABZZA | Allen-Bradley |
| AB 6181-ACBBBBZZZ | Allen-Bradley |
| AB 6181-ACAABAZZZ | Allen-Bradley |
| AB 6181-ABBCBCZZZ | Allen-Bradley |
Please contact Sunny sales@xiongbagk.cn for the best price.
➱ sales manager: Sunny
➱ email mailto: sales@xiongbagk.cn
➱ Skype/WeChat: 18059884797
➱ phone/Whatsapp: + 86 18059884797
➱ QQ: 3095989363
➱ Website:www.sauldcs.com