Description
PM01 PM01-A-V001 SIS  Bit-chip microprocessor
Can be transported to all parts of the world. (Exclude areas that cannot be transported under special circumstances! )
If necessary, please contact customer service.
[service contact information]
Tel: 18059884797 (WeChat with the same number)
QQ:3095989363
Email: sales@xiongbagk.cn
Address: Unit 2009, Chuangxiang Center, No.1733, Lvling Road, Siming District, Xiamen
① 24-hour email reply (12 hours);
③ For shipment to countries outside Asia, please contact the seller.
Specializing in the world-renowned brand DCS system, robot system, large-scale servo control system and module.
Main brand: Allen Bradley、BentlyNevada、ABB、Emerson Ovation、Honeywell DCS、Rockwell ICS TRICONEX、FOXBORO、Schneider PLC、GE Fanuc、Motorola、HIMA、Prosoft、Woodward、MOOG、
RexrothAnd other imported industrial parts.
Application industry:
Power plants, steel mills, automobiles, petrochemicals, tobacco, metallurgy
Note: Please follow the instruction manual of this product to install and debug, so as not to damage the product
Reasons for choosing us—-Seven core advantages:
Brand new imported:
All products are produced and supplied by foreign original factories
Rigorous test:
All products have been strictly tested for a long time by professional and technical personnel before delivery.
Free product consultation:
Before purchasing and after using, if you encounter technical problems with the product, we will provide you with a 24-hour service hotline for free product consultation.
One year warranty:
Brand new product is guaranteed for one year
15 days replacement:
Within 15 days, there is no reason to return or exchange for non-artificial quality problems
Order directly from the original factory abroad:
Eliminate intermediate links, minimize costs, have a large number of spot stocks, and directly supply the country
SF Express:
National SF Express Free Shipping, within the range arrives the next day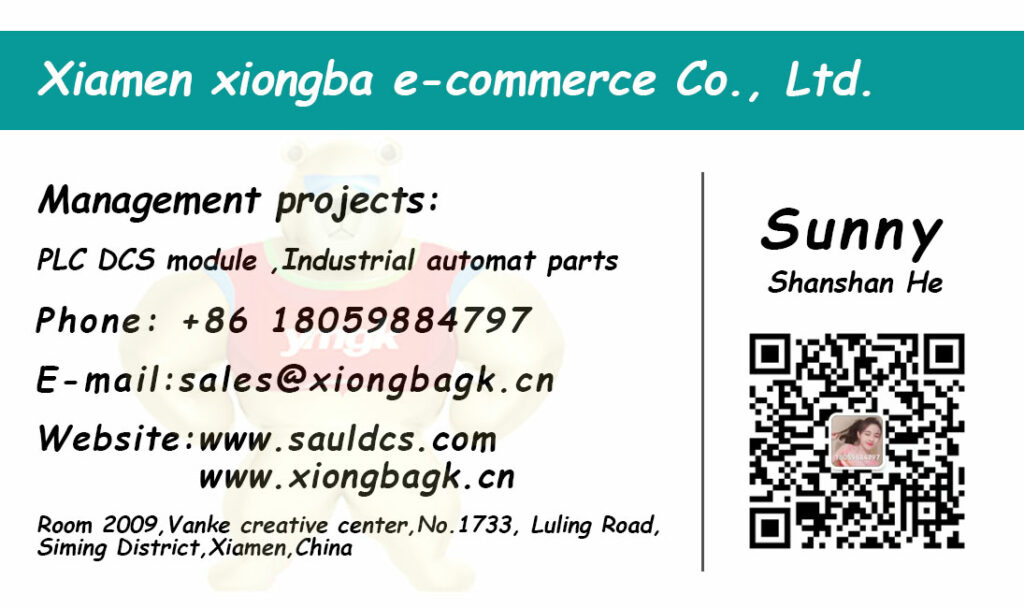 Please contact Sunny sales@xiongbagk.cn for the best price.
➱ sales manager: Sunny
➱ email mailto: sales@xiongbagk.cn
➱ Skype/WeChat: 18059884797
➱ phone/Whatsapp: + 86 18059884797
➱ QQ: 3095989363
➱ Website:www.sauldcs.com